I saw this book in
someone's
Hardcover vs. Paperback post and somehow I knew I was meant to read it.
When I see Push books I know that they will be an edgy and raw read. I also think about how I lost some Push contest I entered when I was a senior in high school.
Haha
. Still bitter.
Dirty Liar
by Brian James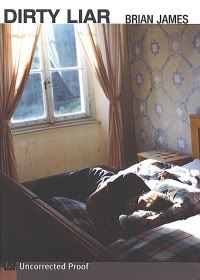 Dirty Liar
is the story of Benji, better known as
Dogboy
, and he prefers that name. Benji is a guy he doesn't really want to know.
Dogboy
is a cloak he can hide behind, just like his nondescript jeans and long hair. He leads a fairly normal life with a couple of buds he gets high with after school, a long-distance girlfriend and a new step-family to get used to. Nobody knows why Benji chose to leave his mother and his former life. If Benji has anything to do it nobody is ever going to know all of the dark secrets he keeps hidden inside of him.
The first thing you'll notice about this book is the
unusual
structure. Instead of quotation marks for dialogue James uses dashes and italics. He also has a tendency to connect sentences through
ellipses
. I'm not sure what the point of this is. In fact, it's probably one of the reason that I haven't really read one of his books before even though I've probably picked up all of them to look at while I was the library. But don't let that turn you off. It's a simple thing to get used to. Everything reads just like the usual structure for a novel. The only large drawback to this style is that it makes reading the narrative very slow. When you see a lot of sentences..connected like this..it slows down the words in your head..it can be slightly frustrating..but at the same time it really gives you a sense of Benji's state of mind.
The actual writing is poetic, raw and riveting. I felt so connected to Benji, so much so that I had to look away sometimes. Benji is a smart guy and I really enjoyed reading about his theories about people and behavior and why things are the way they are in his life. To me, his pain and bad feelings never felt forced or melodramatic or contrived. You get glimpses into Benji's life with his mother, a life of neglect from his mother and abuse from his mother's boyfriend Roy. These
glimpses
don't tell the full story but they allow you to fully understand the dept of Benji's suffering.
Benji's depression isn't easy to read. The novel doesn't have a lot of action so you spend a lot of time in Benji's head as he writes in his journal, lays in his bed, gets high or just fights against all the demons pushing in on him. However, the writing is so vibrant that it makes up for the lack of physicality on the page. What really brings this novel together is the undercurrent of hope that runs throughout and then comes rushing at you in the end. Benji has a girlfriend back where his mom lives who loves him and then there's a new girl in his life at his new school. The moments where Benji is fresh and flush from all these new feelings are times when I wanted to stand up and cheer for him. The ending brings this all together and I didn't find it rushed. The climax was well-plotted. Benji faces a lot of fear and confusion as does the rest of his family. They don't handle this perfectly but in the end it is clear that everything is coming together so that everyone can move forward. I really enjoyed reading that.
This is a dark, gritty but beautifully controlled and written book. I recommend it if you're looking for a different kind of book about an outcast who thinks he's given everyone permission to write him off but he actually hasn't. This is one book that takes a teenager's depression as seriously as they do. A very inspiring read for me, personally. I'm glad that I chose this one. Check it out!
I'm not quite sure why they chose
Dirty Liar
for the title though. I mean, I can see it but to me, it's a stretch.
Also,
Dirty Liar
is a companion novel to
Perfect World
. It's probably better to read
Perfect World
first, actually. I'll have to check that book out of the library soon.
Okay, now I have to write 1500 words in an hour. I joined the
DFTBAuthors

Writing Challenge
and
committed
to 1500 words a day for a week. D'oh!