It's time for this week's
C.O.R.A Diversity Roll Call
question! I encourage you to join in, I look forward to doing them every week! I'll address these questions.
Your assignment this week is to inform readers what they are missing. With your help, maybe we can begin dismantling misconceptions and introduce readers to a more diverse pool of writers. Please address one or a few of the following:

1) Provide a list of YA writers of color that you think deserve more exposure.

2) Showcase cover art that does not reveal the race/ethnicity of the characters. Do you think these covers accurately represent the storyline?
It's hard to just find authors of color on the Internet through Google especially if they're not well known for whatever reason. I thought I'd go on a treasure hunt. My library is awesome and it has a pretty big YA section. I spent some time looking through all the YA books in the library for books by and about people of color.
How did I look for the books? I just stared at all the titles. I judged a book by it's cover. I looked at last names. I randomly pulled books off the shelves and checked. I remembered a lot of books just from years of looking at the YA section in the library even if I had never read them before. Sometimes it was blind luck, like just a feeling I had.
This is not a good way to look for a specific kind of book! But it's interesting because there are more books out there than I thought. And these were mostly books that I could judge from their cover, inside blurb or author photo in the back. I imagine there were more in the stacks and also out in the world, in people's homes and other libraries and even more that I didn't know about because there was no hint of ethnicity in the outer characteristics of the book.
So I made a list of books I thought people might not know about. I focused mostly on African American authors with a few others. And I'll talk about some covers as well.
Maid Machinegun
by Aaliyah.
Song for Night
by Chris Abani (I think this is more adult than YA though)

Sofi Mendoza's Guide to Getting Lost in Mexico
by Malin Alegria. The cover definitely shows a teen girl looking lost, like the title suggests. I think she could be a variety of ethnicities but the title gives away that she is supposed to be Hispanic. I think the cover goes well with the title, I can't comment on the book.
Maya Running
by Anjali Banerjee.
Dominion
by Calvin Baker.
The Black Canary
by Jane Louise Curry.
Afrika
by Colleen Craig. The cover deliberately puts the girl in a dark shadow which I think is interesting. At first you might think this girl is black but you can't assume that. The book is called "Afrika" so it leads you in that direction, but reading the product description and the reviews on Amazon, I think the main character is white. I think the cover is ambiguous on purpose so people will pick up the book for a variety of reasons. I wouldn't call it misleading.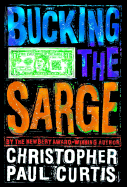 Bucking the Sarge
by Christopher Paul Curtis. No mention or hint about race with this cover. It's all about the most important color-- that mighty mighty green. The only reason I knew this was about a black teen was from browsing the stacks before. I like this cover because it's very appealing and fun and more people will feel invited to pick up the book. I haven't read the book so I don't know how much race plays a role but it sounds like a good read. Also, Christopher Paul Curtis won a Newberry so that says something really good about his writing!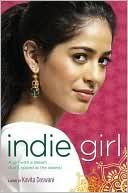 Indie Girl
by Kavita Daswani. I think this cover is sort of glamorous. I just picked it because it prominently displays the race of the main character on the cover but on the other hand she looks so cool, that's what made me look at this book in the first place. It looks like chick-lit and if readers like that type of story and book and cover and all that goes with it I think this cover will make them pick up the book irregardless of their race or the race of the girl on the cover.
Fresh Off the Boat
by Melissa de la Cruz.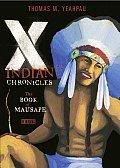 X-Indian Chronicles: the Book of Mausape
by Thomas Yeahpau. Not sure how I feel about this cover. I'm not really a fan of drawings but is it an image that will turn people away just because they don't feel the book is for them or will speak to them? I think it might. But is the cover true to the story? I don't know because I haven't read the book. Just things to think about.
Acting
by Sherri Winston.
Hang On in There, Shelley
by Kate Saskena.
How Opal Mehta Got Kissed, Got Wild and Got a Life
by Kaavya Viswanathan. Oh, is this the Harvard girl that got busted for plagiarism? Haha. Well, I'll still talk about the cover. Seems like when they don't want to make race prominent on the cover the person is in shadow or colored weirdly, like this one. I prefer the "Bucking the Sarge" approach of picking a symbol or something else other than a person to put on the cover. Anyway, this cover seems cheesy enough and the thick hair may be a giveaway.
Chandra's Secrets
by Allan Statton.
Imani All Mine
by Connie Porter.
The Professor's Daughter
by Emily Raboteau. I highly recommend this one if you're into literary short stories. I wouldn't say it's YA but that's where I found it. The stories are about a young lady who is half-white, half-black and they are superbly written.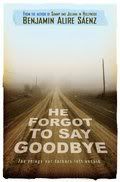 He Forgot to Say Goodbye
by Benjamin Alire Saenz. Discovered this book in the library and added it to my mental TBR pile. The last name made me take a look. It's about a Mexican teen and a white teen who become friends through the shared experience of not having a father in their lives. The cover doesn't hint at race in any way but instead suggests a journey and loneliness. I think it's a lovely cover.
Joseph
by Sheila P. Moses.
Skunk Girl
by Sheba Karim.
Hot Girl
by Dream Jordan.
Spellbound
by Janet McDonald.
M+O 4Ever
by Tonya Hegamin. Funny, I chose this cover because the kids on the front were dark but vague, that whole shadow thing. One of the reviews on Amazon said this,
"It's too bad the cover art doesn't more clearly show the girls' ethnicity; more books with girls of color prominently displayed are needed."
I found this in the library and leafed through it because I'm clued into the shadow technique on covers. I think we definitely need more books with girls of color as the main character that are also widely read for everyone. How do we make this happen? We can change our culture or tweak the cover. One is easier than the other, unfortunately.
Response
by Paul
Volponi
. Another shadowed covered. This is also in my mental
TBR
pile. The story is about a black teen who gets beat up in a white neighborhood. Funny, those shadowed figures on the cover may be the teens who beat him up! There is a real ominous feeling from the cover. In fact, the figures on the cover are more like symbols than people so I like that.
So I hope I gave you some ideas for books to read. I think this exercise has further confirmed that I much prefer stuff on covers to people, personally. But I also don't think authors and publishers should have to omit faces of color from book covers just so more people will give it a try. So it's a Catch 22 of sorts. I think we just have to encourage kids and teens to just have a love for reading because when you really love reading then you'll be looking for anything. When you love reading the most important thing is that it's a really good story.