Have you had a Coldstone Cupcake? Well you should have one, it's good.
This week on To Be Read Tuesday I'm featuring...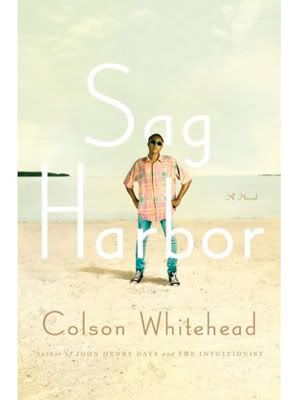 Sag Harbor by Colson Whitehead
The year is 1985. Benji Cooper is one of the only black students at an elite prep school in Manhattan. He spends his falls and winters going to roller-disco bar mitzvahs, playing too much Dungeons and Dragons, and trying to catch glimpses of nudity on late-night cable TV. After a tragic mishap on his first day of high school—when Benji reveals his deep enthusiasm for the horror movie magazine Fangoria—his social doom is sealed for the next four years.

But every summer, Benji escapes to the Hamptons, to Sag Harbor, where a small community of African American professionals have built a world of their own. Because their parents come out only on weekends, he and his friends are left to their own devices for three glorious months. And although he's just as confused about this all-black refuge as he is about the white world he negotiates the rest of the year, he thinks that maybe this summer things will be different. If all goes according to plan, that is.

There will be trials and tribulations, of course. There will be complicated new handshakes to fumble through, and state-of-the-art profanity to master. He will be tested by contests big and small, by his misshapen haircut (which seems to have a will of its own), by the New Coke Tragedy of '85, and by his secret Lite FM addiction. But maybe, with a little luck, things will turn out differently this summer.

In this deeply affectionate and fiercely funny coming-of-age novel, Whitehead—using the perpetual mortification of teenage existence and the desperate quest for reinvention—lithely probes the elusive nature of identity, both personal and communal.
This seems like one of those novels where there isn't a ton of plot jumping off. It's a book to enjoy, really relish the language and the normalcy of things while realizing some truths that you know from your own life. I like a good book like that. I also like that it's about "black boys in beach houses." Hey, black people can swim! And they tan, just so you know.
I just found out about this book today from the blog
White Readers Meet Black Authors
and I went to check it out from the library and I'm hold #14 of 14. So it's a popular read.
Apparently the author is a big deal. He has a bunch of awesome awards. I should probably check out his other books too. I'll just throw them on the pile. I've got so much on the back burner!
In 1985 I was one year old. But I can appreciate the 80s. So much good music came out of that especially towards the end, like New Jack Swing. Why do you think I listen to Throwback Jamz on Music Choice all the time and watch VH1 Soul? I love that type of music maybe most of all. So I'm looking forward to this book.
Well, I've got to get back on track with writing, watch American Idol and get a book read so I can post a review on here!