I'm new to this blogging world and the things that has struck me most about everyone is how kind and articulate everyone seems to be. Especially since some of these
bloggers
are so young! Yet they are so committed and their blogs are pretty and full of features and excellent reviews. I'm very jealous.
But it also got me thinking. Most of the time we YA
bloggers
focus on new releases or books that have been out in the past two years or so. What about back in the day YA books? I've been reading YA since I was supposed to. I can't remember when I started. I've read a lot of great books and I thought it would be cool to recommend these older ones.
So on Fridays I will feature an older YA book I think you should check out of the library or get a used book store or something. I'll make the cut off date for publication the year I graduated from high school-- 2002.
Flashback Friday featuring
A Door Near Here
by Heather
Quarles
.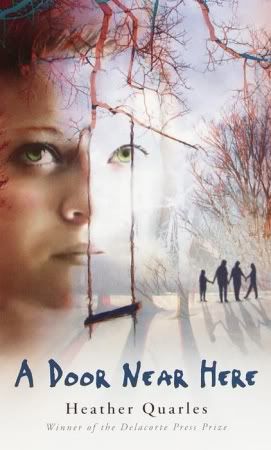 Summary:
Without even noticing, 15-year-old Katherine has become the head of her household. She hasn't had time to notice. Her single mother, an out-of-work alcoholic, has been in bed for weeks, leaving Katherine and her three younger siblings to band together and fend for themselves. But it has gotten harder and harder to maintain any sort of stability. There's no time for housework, food and money are running out, and the kids' teachers are starting to get suspicious. Worst of all, Katherine's youngest sister, Alisa, seems to be losing her grip on reality; she is obsessed with finding a door to the imaginary land of Narnia. And the longer they all struggle to maintain their pretense of normality, the more they have to fear--and to lose.
Why You Should Read It:
This is a gorgeous, compelling read that sucks you in from the first chapter. Katherine is a fierce main character with a conversational yet commanding voice that keeps you turning the pages. Not only is she smart and strong-willed but she can be sullen and full of anxiety but most of all she really loves her siblings. You really get into her head.
The writing gives me such visceral reactions. I gasp, I laugh, I want to cry. That's a sign of really good writing. As Katherine's life slips further and further out of control I find myself compulsively reading just to see what happens next. It's a really quick read but it's very satisfying. It's rich with plot and feelings.
While Katherine is the main character it's Alisa who really steals the show. She's an adorable little girl and you can feel her longing and belief in Narnia just leap off of the page. She's so smart yet such a little kid. When you read about her you know why Katherine would go through such lengths just to keep her safe.
Check it out!
Sampler:
(from pg. 65 hardcover edition)
But Mr. Dodgson wasn't moving. He wasn't packing up his things or anything. He was just looking at me.
I took a step sideways toward the door, checking my watch again as a hint, in case he'd forgotten about the school bus.
Okay, come on, let me out
. I took another step sideways as sort of a question mark.
"It must have been an awfully traumatic day for you," said Mr. Dodgson.
I stepped back, confused. "A... well, sort of, but..."
"Your sister told me you'd also badly cut your thumb. She mentioned
stitches
."
Oh. Shit.
I'd forgotten Tracy had Mr. Dodgson for New Testament.
That blabbermouth idiot. She must have told him something

different

on Monday.
"It must have been a terrible time in the emergency room, with potential
laryngitis
and a severed thumb as well. Was your mother with you, too?"
Shit shit shit shit...
"Or was she in another part of the hospital, having her tonsils operated on?" he concluded dryly.
I felt my mouth open slightly as I fumbled for an answer, but I couldn't think of anything to say. My mind felt like a stalled car. Finally I just shut my mouth and let my backpack slide down my arm to the ground. It hit the floor with a defeated clunk.
Other Books By This Author:
As far as I can tell Heather
Quarles
hasn't written anything else. Which I think is a HUGE tragedy! She should definitely publish something else. And if there is something out there I want my hands on it! Heather, if you're reading this, let's have another book!